Zappeion
Phone
210 32.23.509 210 32.37.830 210 32.37.182 210 32.55.541
Fax
210 32.20.048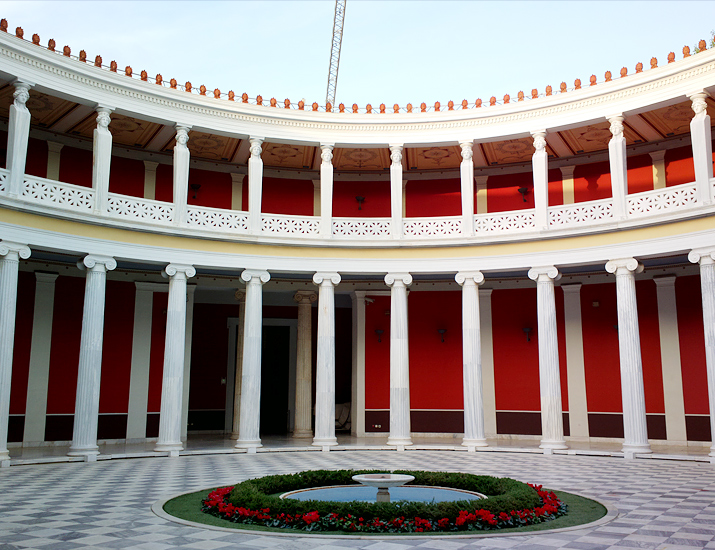 Access
Zappeion Megaron is located at the crossing of Vasilissis Olgas Avenue with Vasilissis Sofias Avenue, next to the National Garden of Athens, within walking distance of Syntagma Square and the Acropolis Museum.
Specifically, it is enclosed by Vasilissis Sofias Avenue, Vasilissis Amalias, Vassilissis Olgas and Herod Atticus Street.
Access to Public Transport is easy for the visitor as Syntagma Metro Station is just seven hundred meters away, Tram Syntagma Station is also at the same distance but also several Buses and Trolleybuses from different Athens districts are within walking distance.
(For more information, you can browse through the following sites: METRO: https://www.ametro.gr, TRAM: http://www.stasy.gr,
Buses: http://www.oasa.gr)
When visiting Athens it is quite easy to visit Zappeion Megaron:
From the airport, you can take the Metro & in about 50 minutes you are at the Zappeion Megaron, you can also get the X95 Airport Express Bus.
From Piraeus Port, you can reach by ferry and metro in about 30 minutes.
Facilities ΑμεΑ
Τhe handling for the needs of people with reduced mobility, with the necessary social sensitivity is our main concern.
Both the outdoors of the Zappeion Megaron and the inside there is the possibility can be moved with easy. A special bar at the rear entrance of the building allows access to the Mansion and parking spaces for people with reduced mobility are foreseen.